At Grand Subaru we believe in making our community a better place for everyone. When you buy a Subaru at Grand Subaru you become part of a community of giving of love.
Friends for Frank DeSimone - September 2021
In August 2021 we partnered with Friends for Frank DeSimone who raised $3000 which we helped by matching that amount, together donating $6000 to Tessa Strong. Tessa was diagnosed with stage 4 Neuroblastoma, an incredibly rare and aggressive form of pediatric cancer, in April 2021 at Lurie Children's Hospital in Chicago, IL. She began a rigorous treatment plan in April 2021 that she is still undergoing, and expects the treatment to take 1.5 years where they will be in and out of the hospital. Tessa is already proving to be the strongest little girl and a fighter.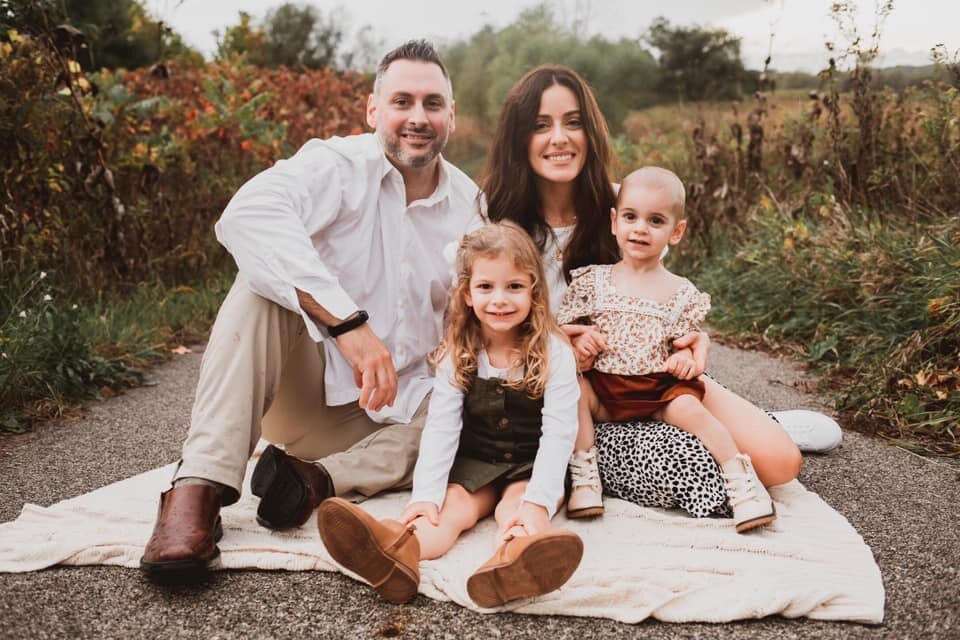 Clothing Drive - September 2021
In the month of September 2021 we ran a clothing drive where we were able to round up 450 lbs. of clothing, shoes and other items. We had the honor to supply all of these items to the Bensenville Community Center, which they received with open arms!.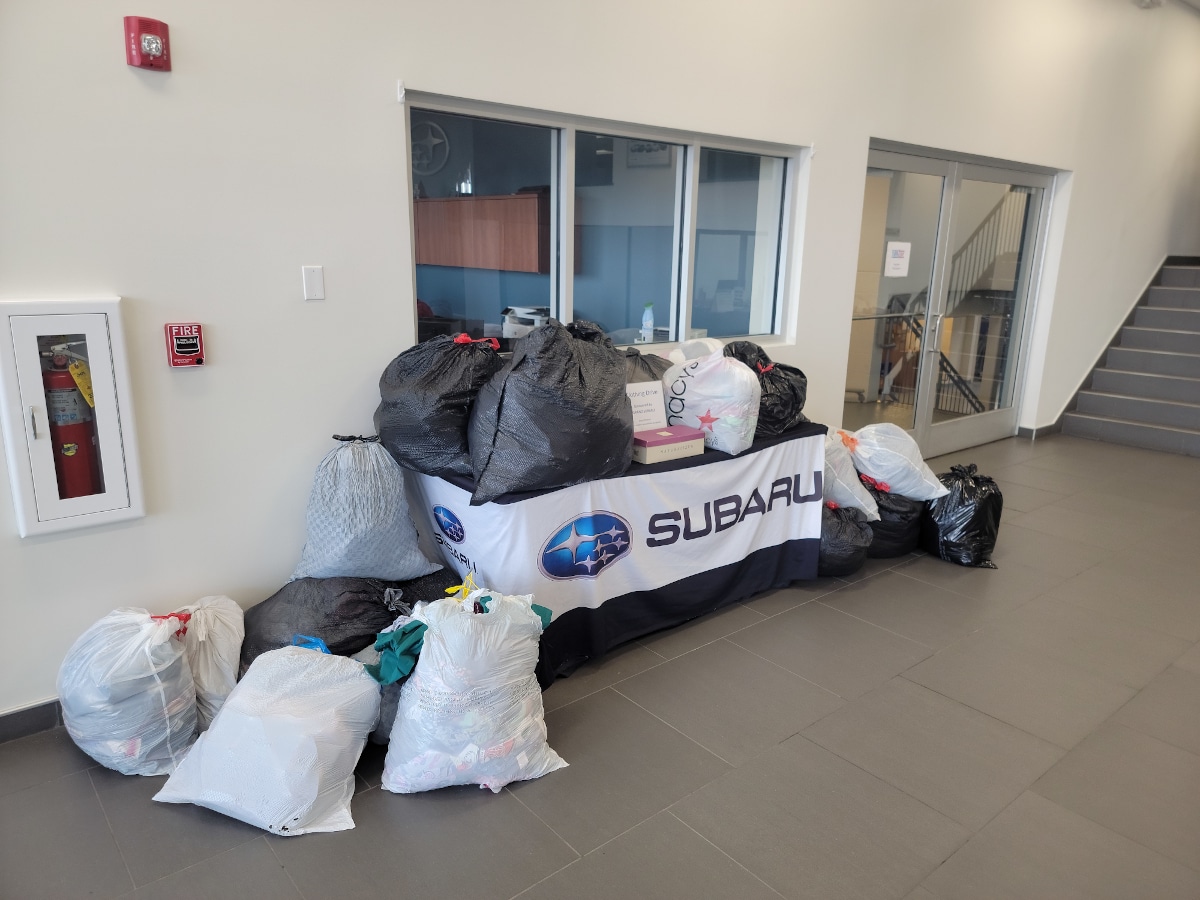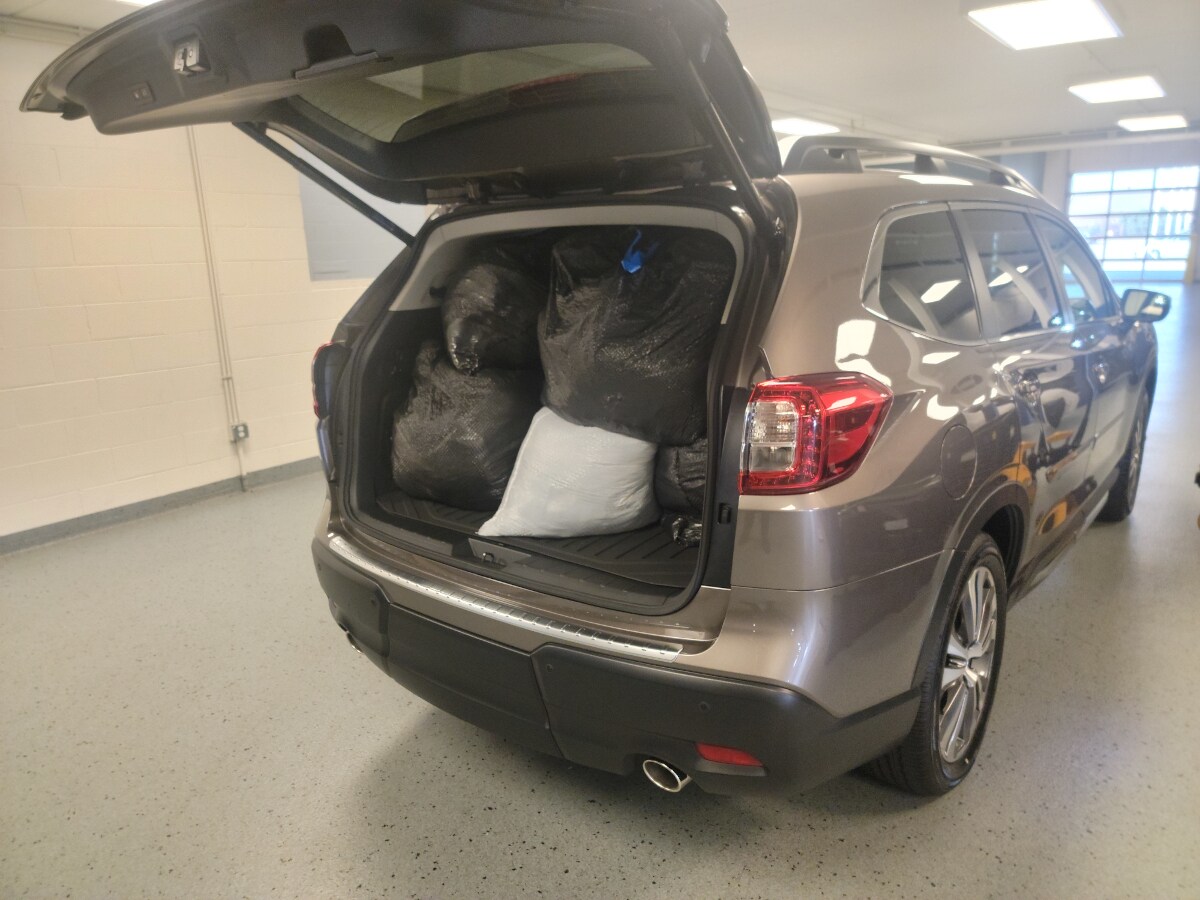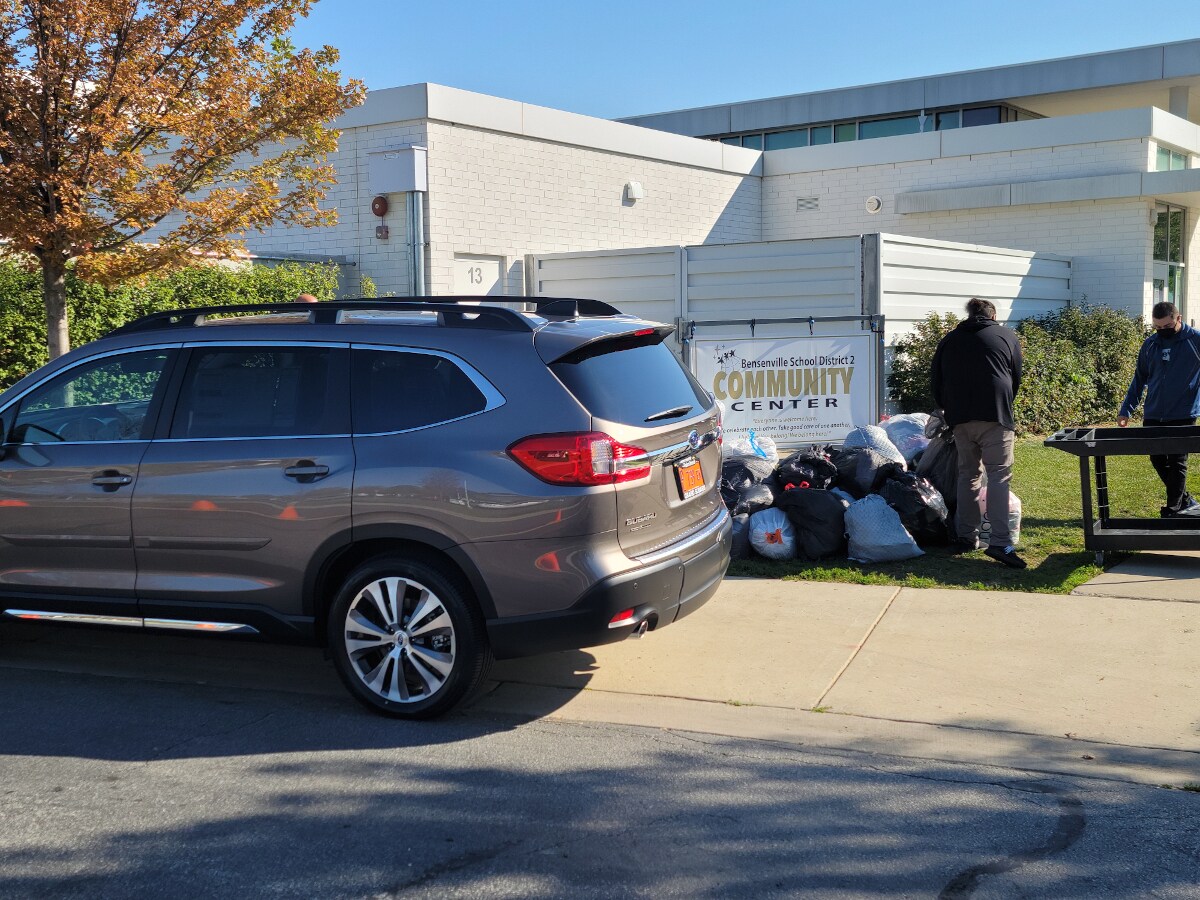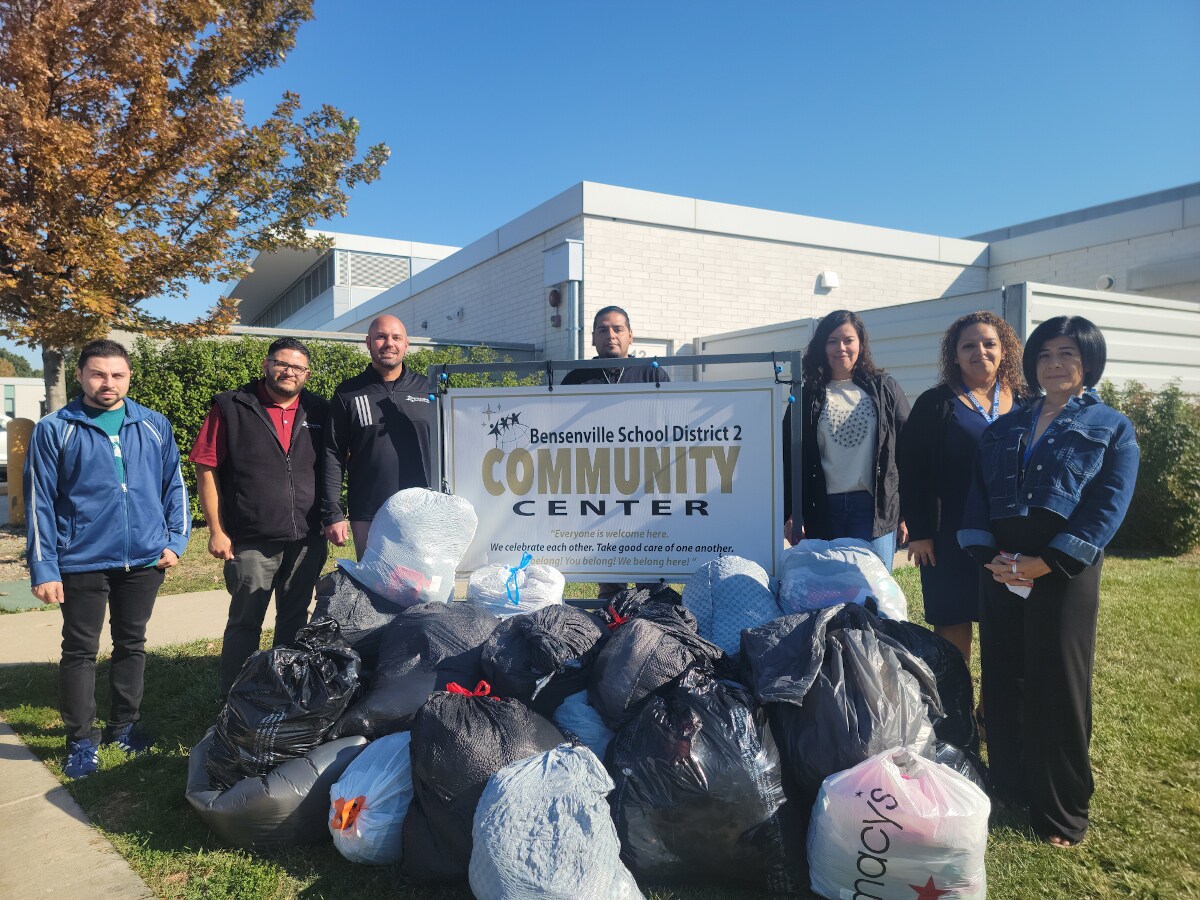 Grand Subaru Loves the Earth - April 2021
On April 24th 2021 we partnered up with both the Village of Bensenville and the Bensenville Park District and we were able to help clean some of our local parks. The Grand team spent all day at Redmond Park cleaning up as much trash as possible.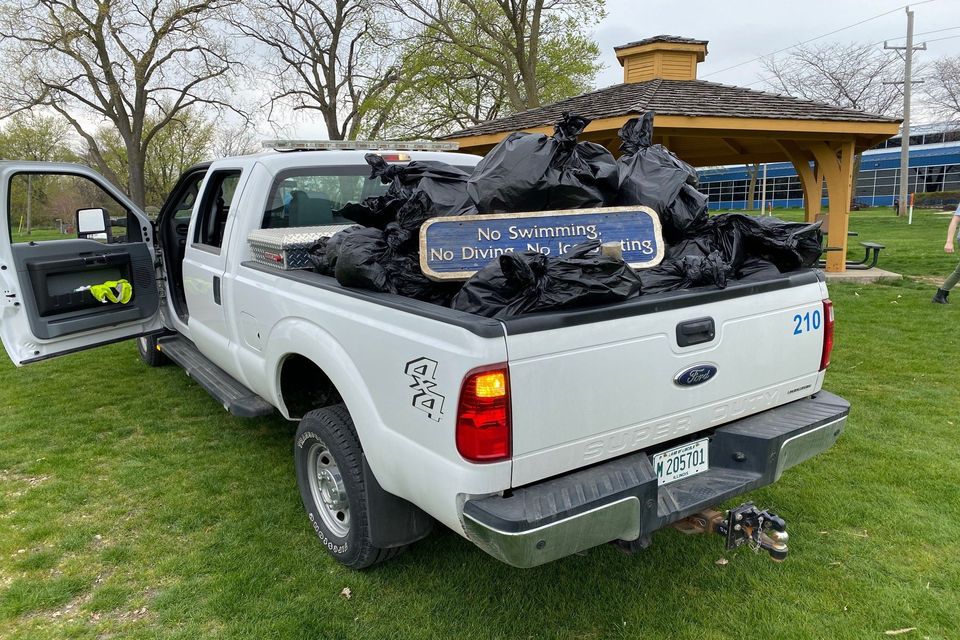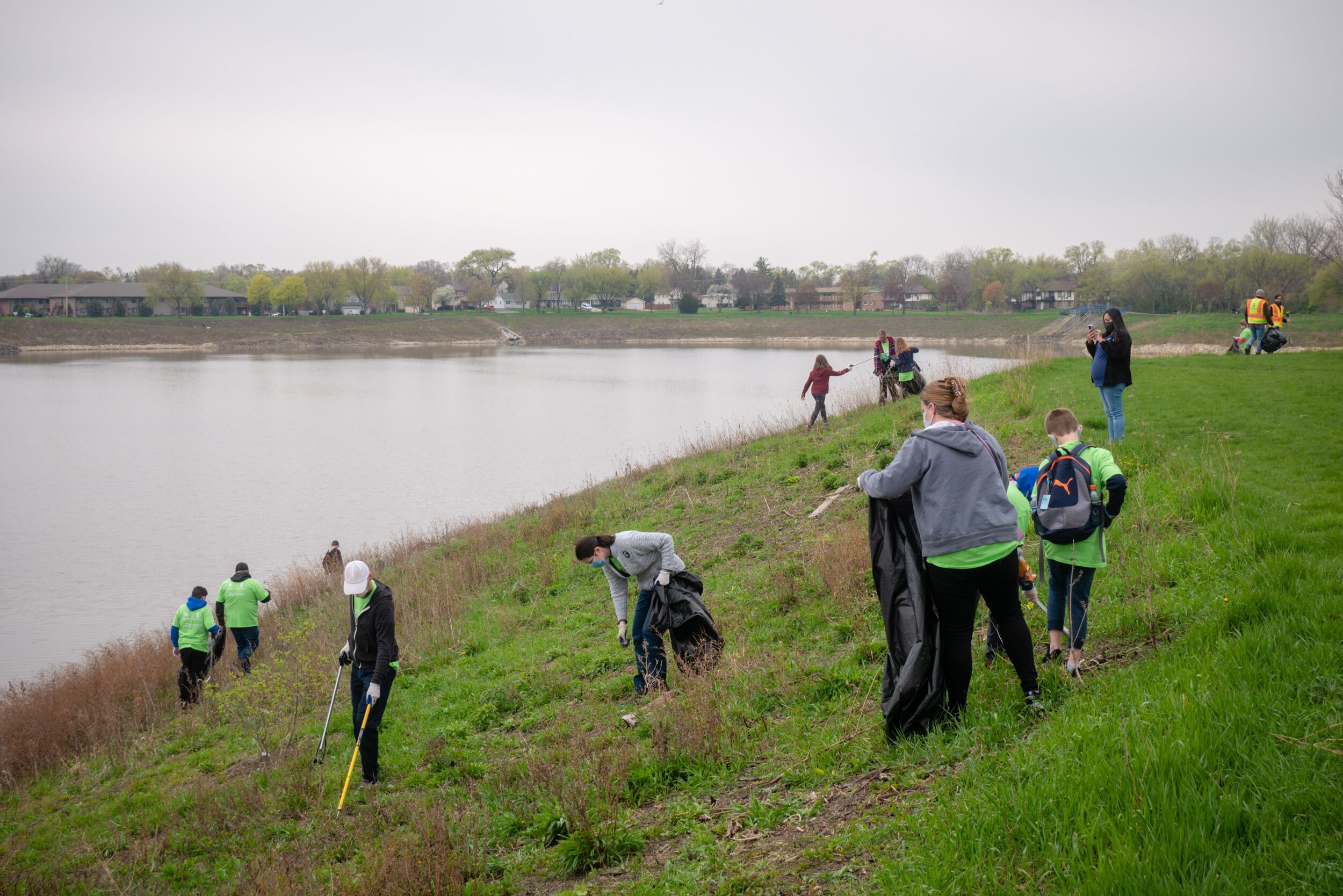 Share the Love Event - April 2021
On April 23rd 2021 we were able to present our hometown charity "Bensenville Community Foundation" for the "Share the Love Event" with a donation check. We are glad to be partnered up with a great foundation that does so much for our local community..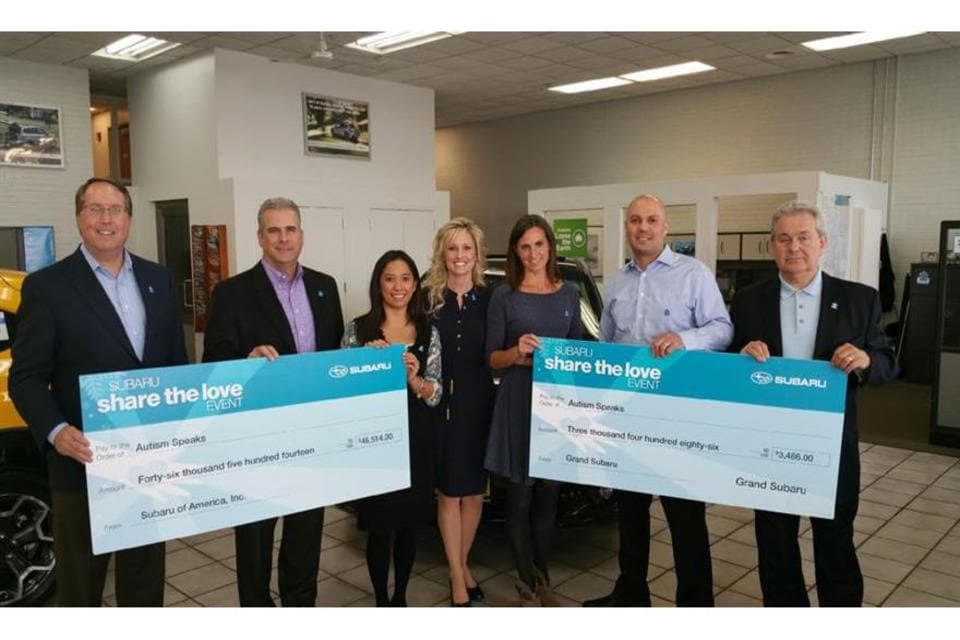 Aiding Food Banks Amidst the COVID-19 Pandemic - April 2020
On April 10, 2020, the Grand Subaru team made yet another trip to the The Northern Illinois Food Bank to pick up 1500lbs of food and delivered to the Elmhurst-Yorkfield Food Pantry due to the COVID-19 Pandemic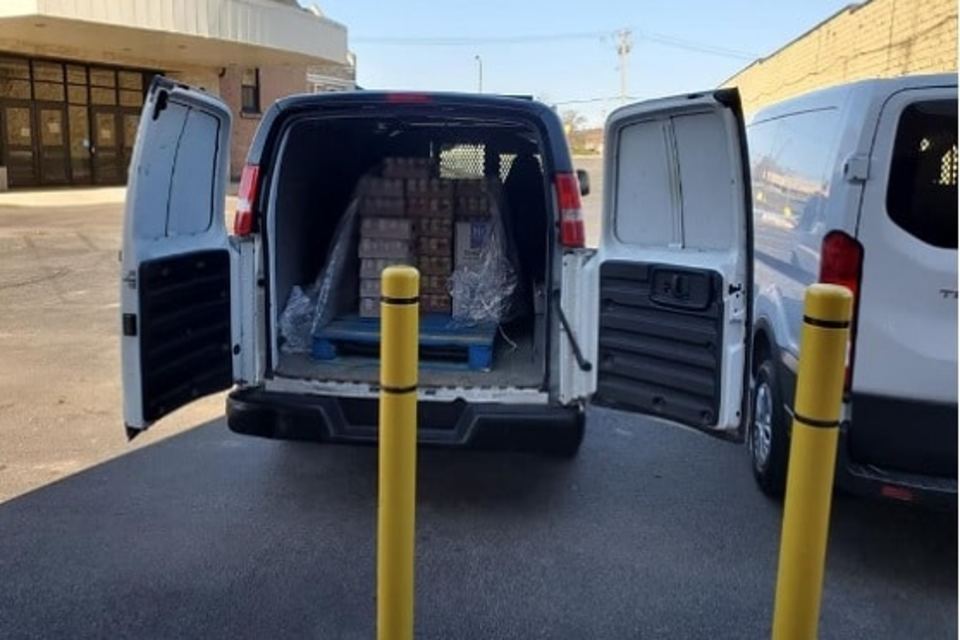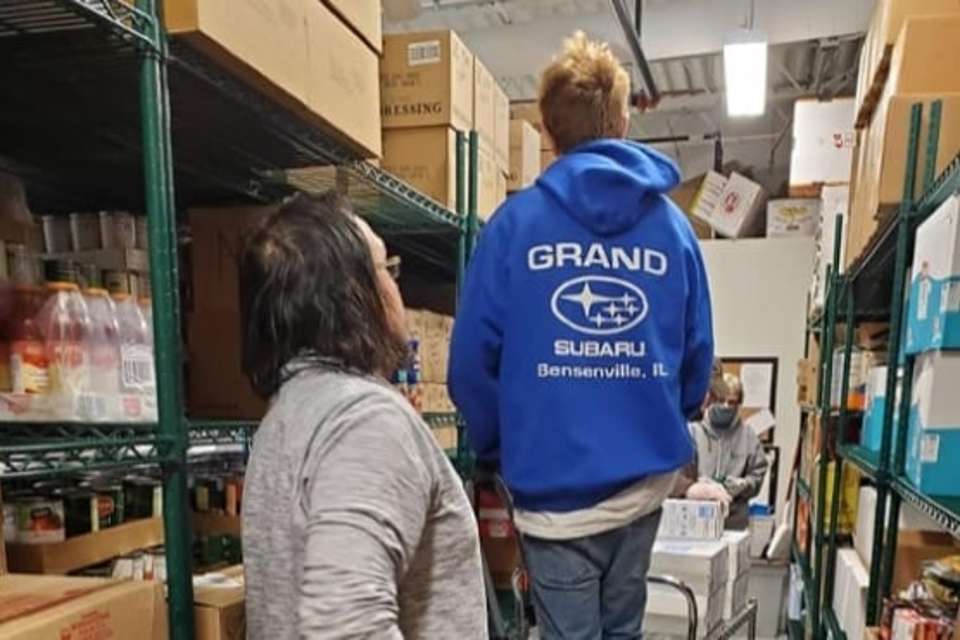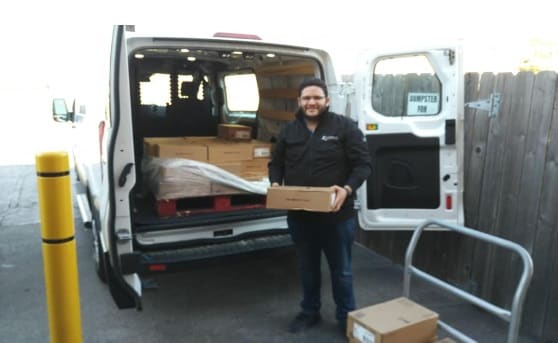 Going the Extra Mile during the COVID-19 Pandemic - March 2020
On March 18, 2020, the Grand Subaru team provided transport of 2800lbs. of food from The Northern Illinois Food Bank to Elmhurst-Yorkfield Food Pantry at the beginning of the Shelter-in-Place placed by the Illinois Governor.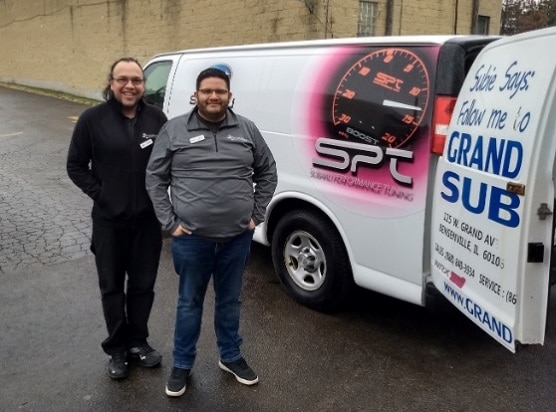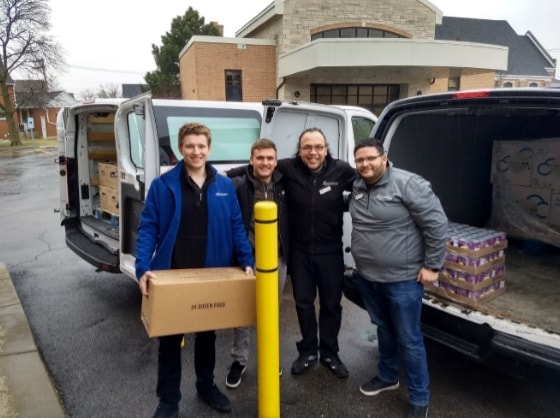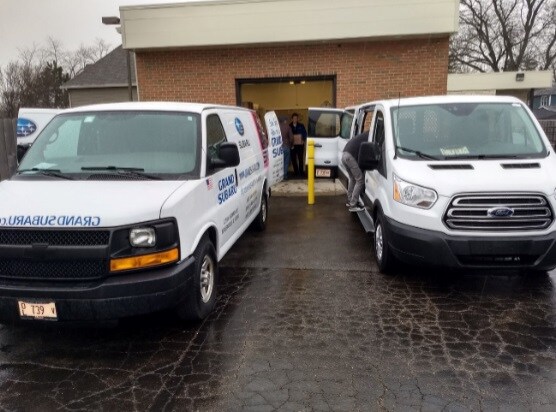 A Gift That Will Keep On Giving - Lara S
Grand Subaru of Bensenville reached out to Bensenville School District 2 with an idea of doing a clothes drive for our families in need. We were so appreciative of being considered for this act of kindness that Subaru is so well-known for. However, on the day of delivery of the items that were collected "being appreciative" moved quickly into "overwhelmed with unbelievable emotion" not only by our superintendent but by our administrative office staff. Everyone could not believe how the bags of clothes, jackets, shoes, blankets, and sheets just kept coming in and piling up-all 997 pounds. Everyone broke out into a spontaneous applause! The great outcome is that anything that can't be used at our schools will be donated to our Bensenville Rotary Club for future distribution within the Bensenville and neighboring communities. We look forward to working with Grand Subaru as valued Community Partners now and in the future.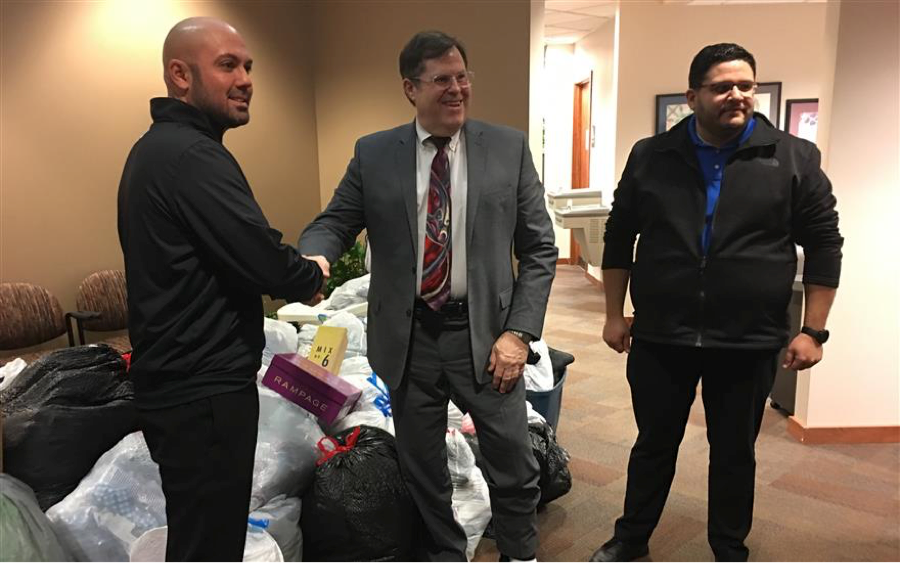 Bensenville Holiday Toy Drive - December 2019
In December 2019, Grand Subaru reached out to Bensenville and asked what they can do to help out during the holiday season? Bensenville holds a Holiday Toy Drive during the holiday season which Grand Subaru contributed by placing a drop box in their facility and a check contribution. In addition, on Dec. 7th they came out to W.A. Johnson Elementary and volunteered their time by wrapping gifts for those families in need.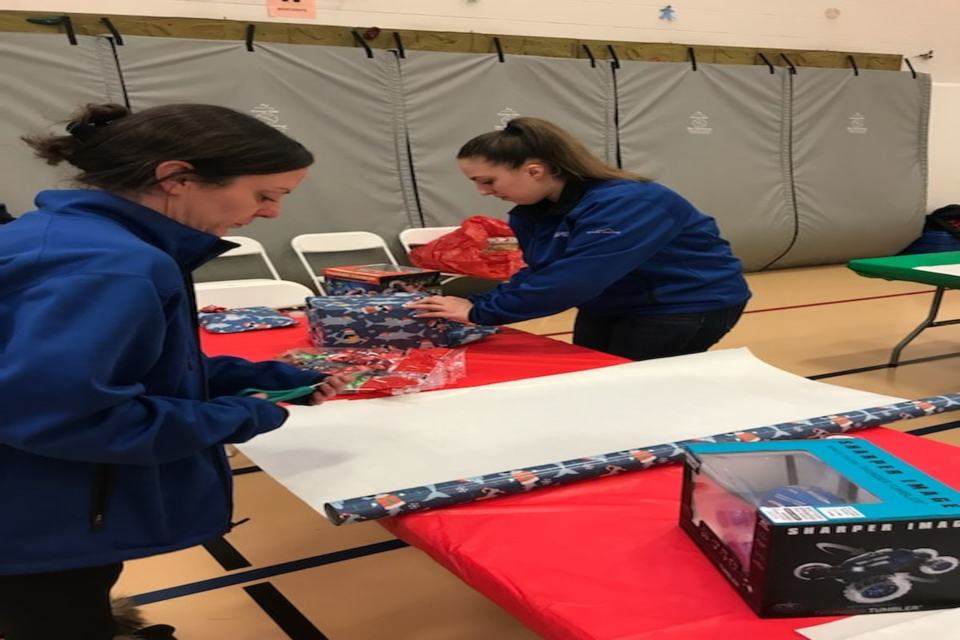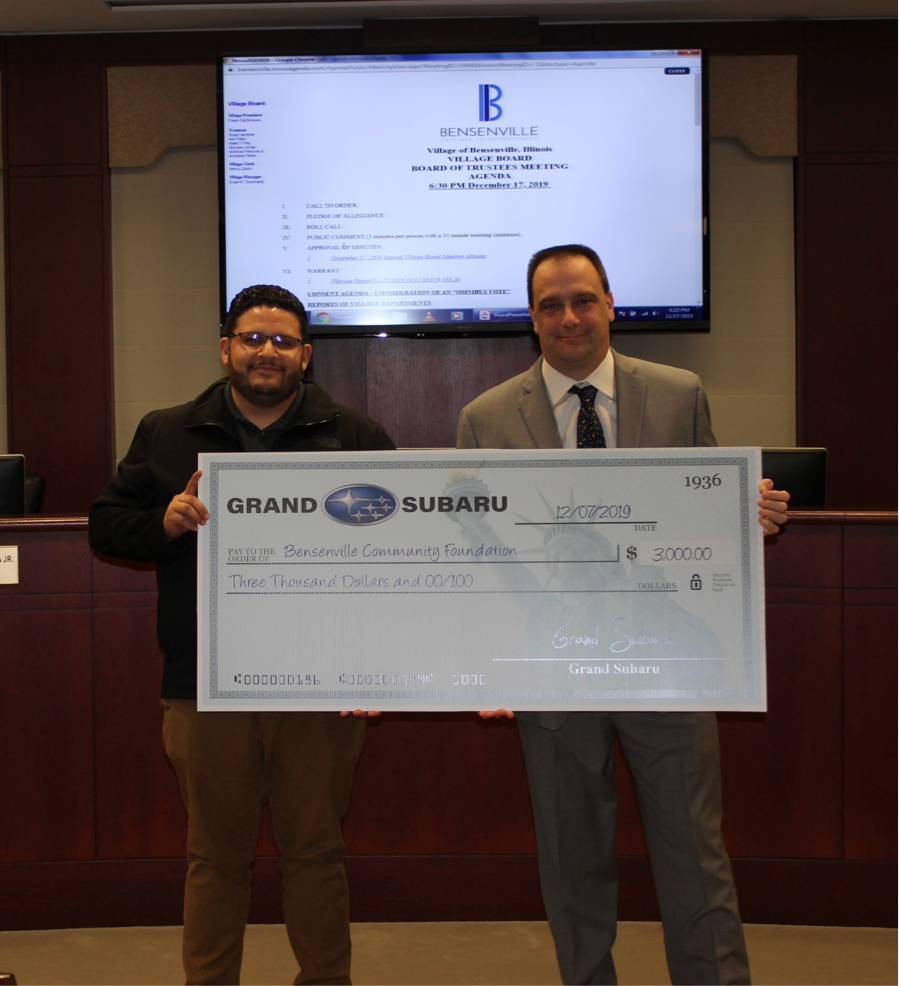 CP Rail Holiday Train - December 2019
On December 2nd the Canadian Pacific Railway holds an event each year named the CP Rail Holiday Train. Each year they pick a couple of different stops and make a donation to the hometown food pantry in their holiday decorated. This year they only had two stops in Illinois, Bensenville IL being one of them. Grand Subaru decided to make a check contribution and a Crosstrek trunk full of food to the Bensenville Wood Dale Food Pantry. This year the BWFP's goal is to set up a walk-in fridge area in their facility for storage. Between the Grand Subaru Contribution and the CP Rail, we think this goal is obtainable this year.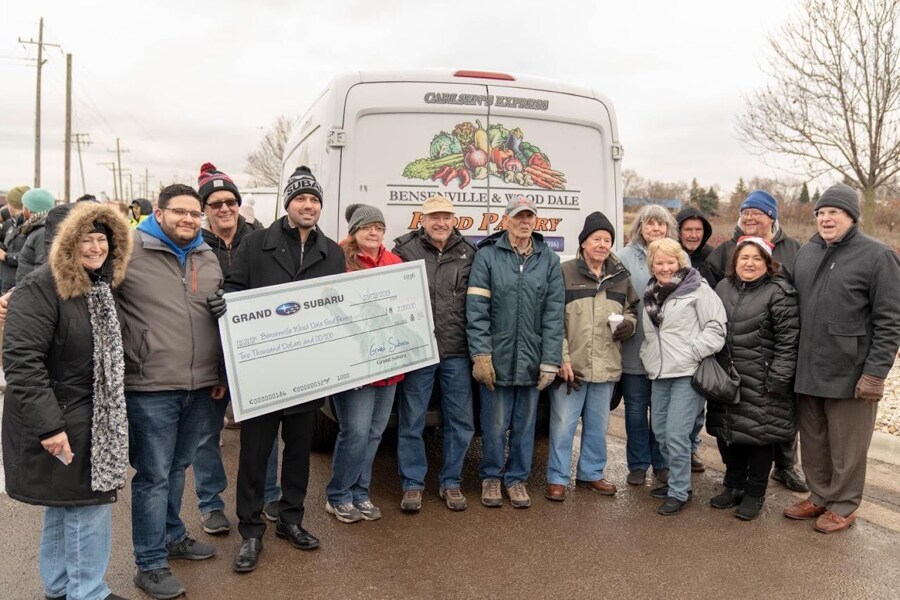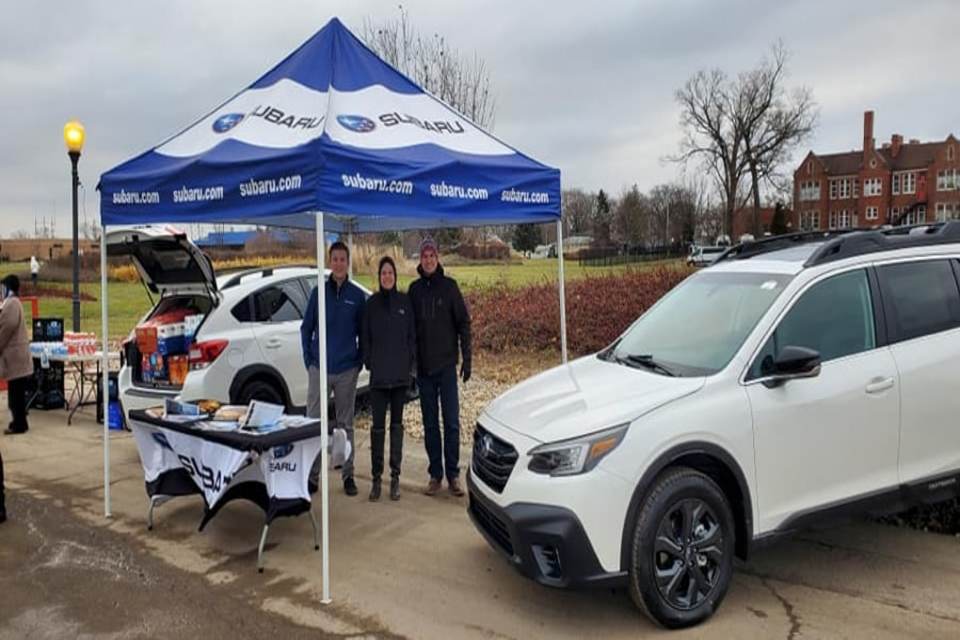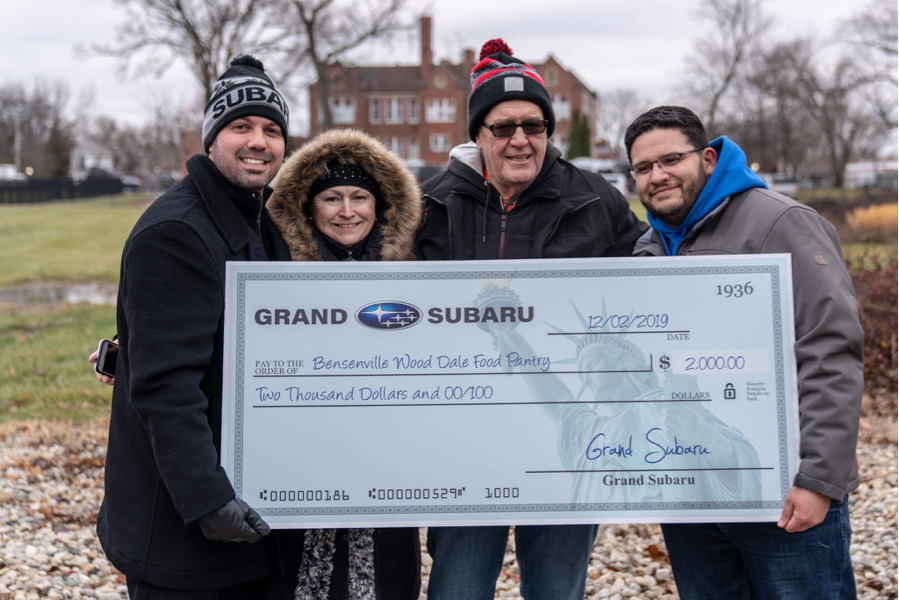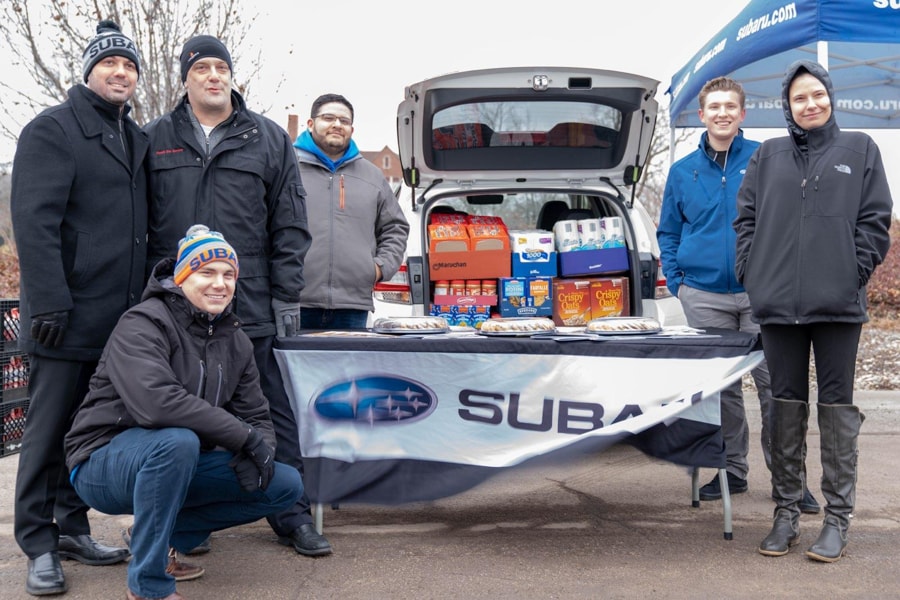 Subaru Loves Pets - October 2019 Health Seminar
Elmhurst Animal Care Center and Grand Subaru teamed up and hosted a Pet Health Seminar during Subaru Loves Pets month. New, future and current pet owners were invited to come out and learn different ways to care for their four legged family members. Free micro chipping vouchers were handed out by Elmhurst Animal Care Center during the event.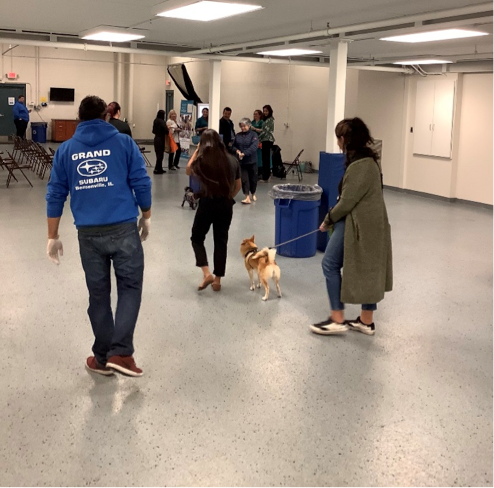 Light The Night - October 2019
The Grand Team came out and volunteered their time during the Light the Night event in Oakbrook for the Leukemia & Lymphoma Society walk. They also made a contribution towards the LLS. The team cheered and encouraged the participants along the walk. The walk was success and THANK YOU Grand Subaru Team!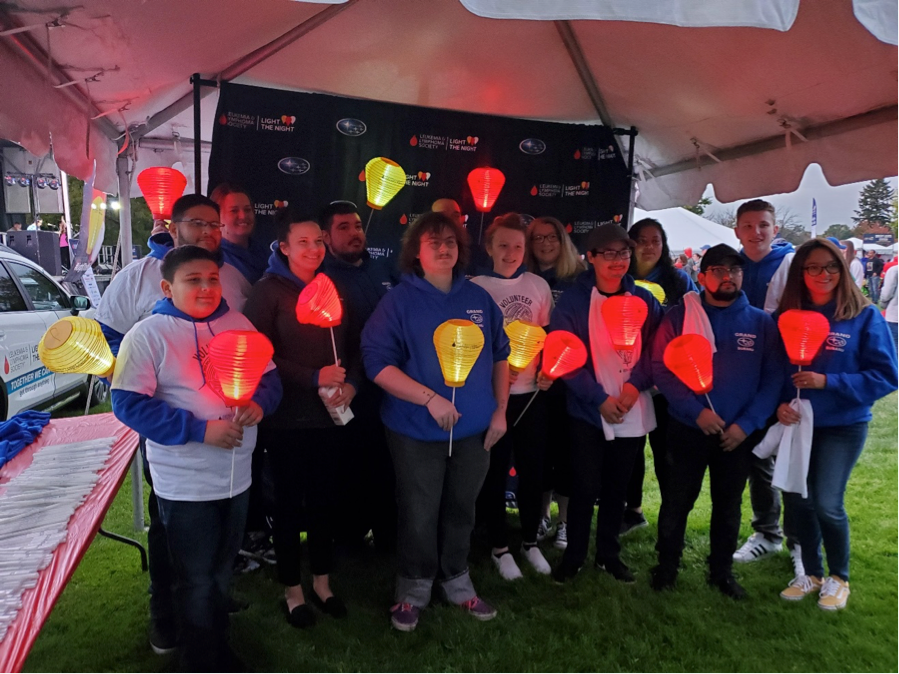 Subaru Loves Pets - October 2019 Training Event
Grand Subaru and For Your K9 partnered up and hosted a basic training event for new pet owners and their customers and their pets. It was an eventful evening with many four legged friends learning new skills and tricks. They also donated a check to Real Estate to the Rescue on behalf of For Your K9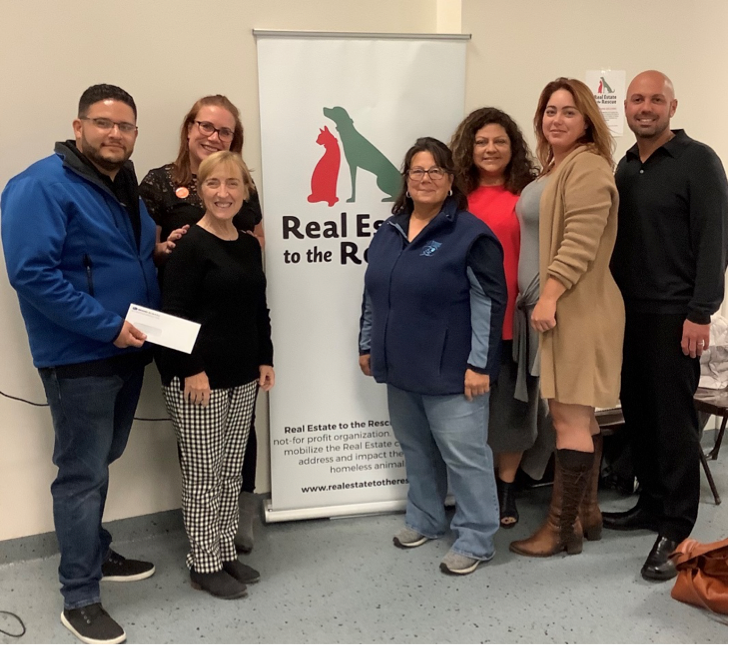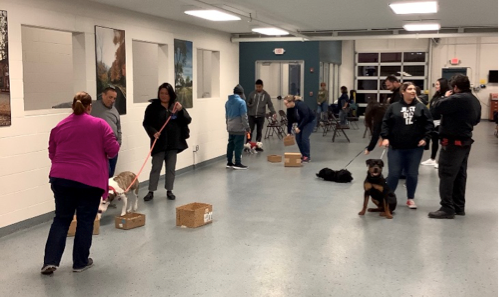 Grand Subaru Cares about Rescue Pets - Gloria W
Grand Subaru has hosted a "Subaru Loves Pets" event for A.R.F. Animal Rescue Foundation (arf-il.org) for the last three years. Jose Carrera and the entire Grand Subaru team truly care about creating and promoting an amazing event that brings more awareness to our mission to find homes for the pets in our foster-based rescue. They arranged for (and paid for) a food truck to feed our volunteers and all of the visitors, invited a mobile pet groomer, got the word out to a local State Farm agent who donated a huge amount of food, and provided a huge area in their dealership for us to set up all of our merchandise. As a rescue that is solely dependent on raising our own funds and educating the public about adoption, spay/neuter, and other pet-related issues, we are eternally grateful to Grand Subaru for helping us. Thank you, Grand Subaru! - A.R.F. Animal Rescue Foundation arf-il.org Facebook: @A.R.F.Illinois Instagram: arf_animal_rescue_il Twitter: @ARF_Rescue_IL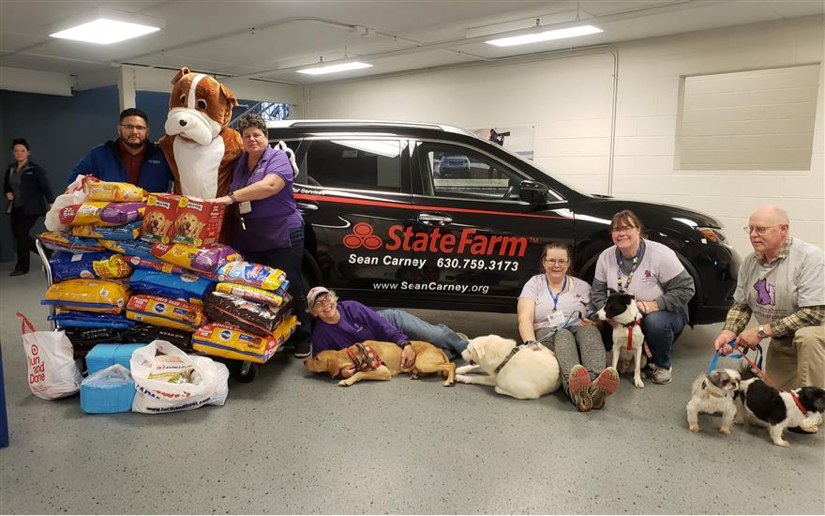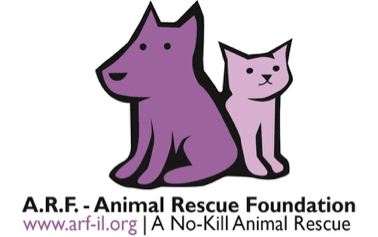 Grand Subaru + Elmhurst Hospital- June 2019 Michelle M.
On June 27th, 2019, the LLS Illinois Chapter and Grand Subaru had the pleasure of delivering 80 blankets and 10 arts & craft kits to Elmhurst Memorial Hospital as part of the Subaru Loves to Care program. These comforting gifts were accompanied by personalized messages of hope written by the Grand Subaru customers, staff, and families. This incredible act of generosity was warmly received by the Elmhurst Memorial staff, who were thrilled to distribute these comforting gifts to their patients. The arts & crafts kits were especially welcome as a distraction for energetic children! LLS is proud to partner with Subaru to spread hope, love, and warmth to those fighting cancer, across the country and right here in the Chicagoland community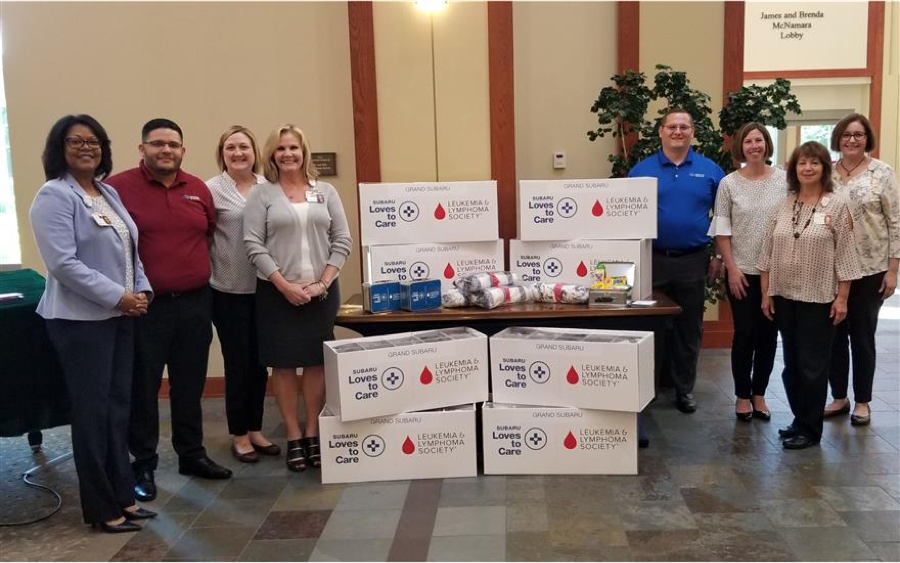 Subaru Loves Pets - 2018 A.R.F. Animal Rescue Foundation
Grand Subaru hosted an adoption event during the Subaru Loves Pets month for A.R.F. Animal Rescue Foundation (arf-il.org) for the last two years. Ryan and the entire Grand Subaru staff are always so helpful during our events. They had a pet costume contest, complimentary grooms & nail trimmings and treats for both humans and furriends! AND YES another one of their team members adopted a pet that day!!!! We will have to wait for next year in hopes to receive another invite for another great event, maybe someone else from their team will adopt another pet.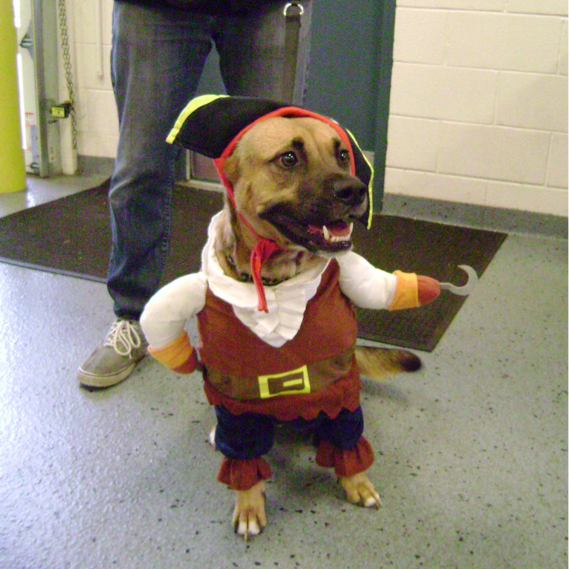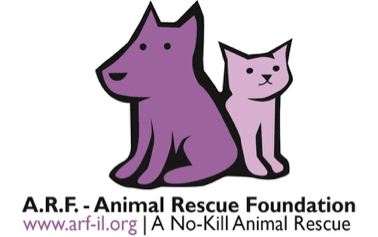 Subaru Loves to Learn, Conrade Fischer Elementary School - September 2018
We want to thank Grand Subaru for being so generous and choosing us for the 2nd consecutive year for their Subaru Loves to Learn Event. The students had a great idea to make them an awesome thank you card they would not be able to miss. The children and stuff will enjoy our new 150 books they donated to us. Thank YOU Grand Subaru!!!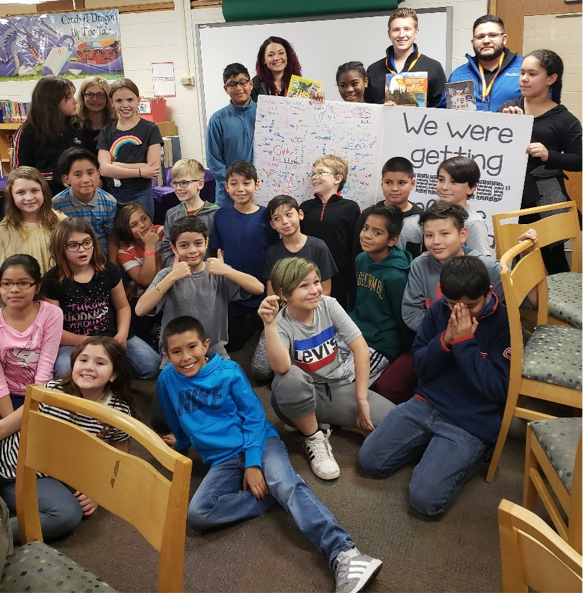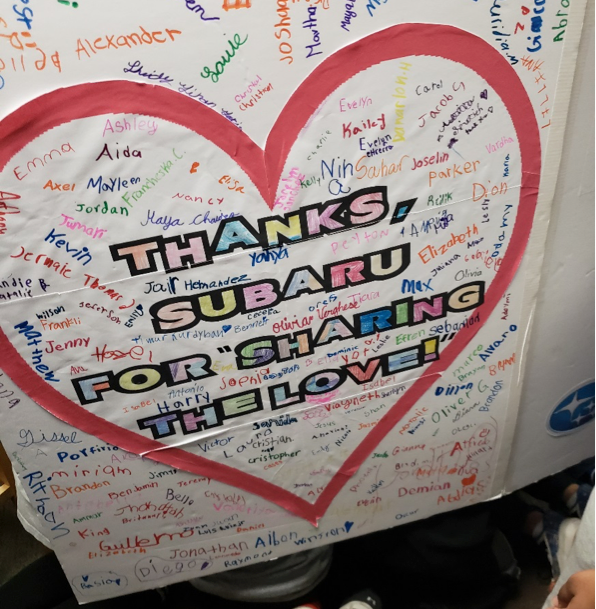 Hope is in the Air - Sue W
We are so grateful for Grand Subaru! Through its "Subaru Loves to Care" initiative, Grand Subaru in Bensenville recently donated blankets, craft kits and numerous care cards to the Nancy W. Knowles Cancer Center. This is the third year of the program, in which Subaru has partnered with The Leukemia & Lymphoma Society to donate blankets and messages of hope from Subaru customers to patients, along with arts and crafts kits for children undergoing cancer treatment. Subaru Loves to Care!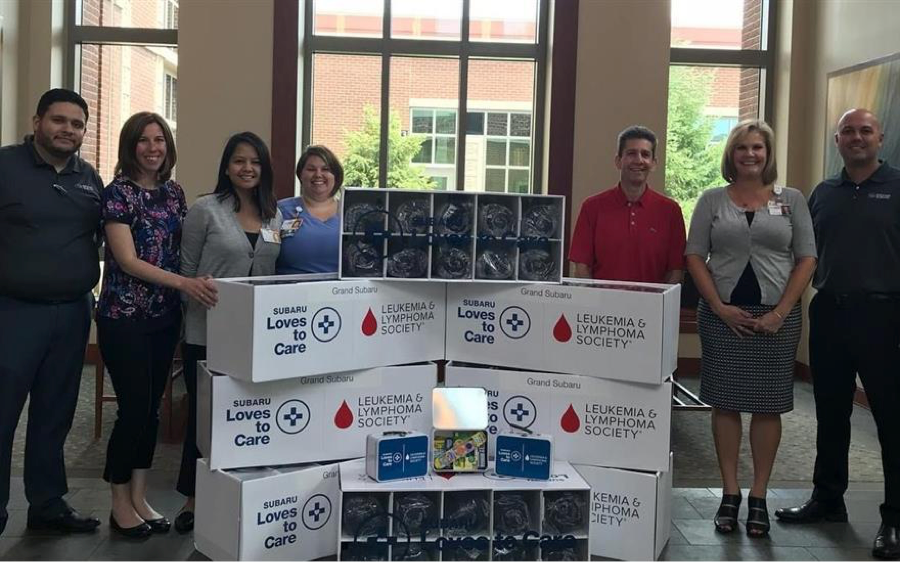 Trunk or Treat - Halloween October 2017
Typically, Trunk or Treat is an outside event where local businesses come out to our Bensenville schools and hand out treats out of their decorated vehicles in our parking lots. Due to the rainy weather, we decided to move it indoors. Grand Subaru was able to set up two stations, one at W.A Johnson Elementary School and another at Blackhawk Middle School. Everyone had a great time and we were glad to have Grand Subaru at our event!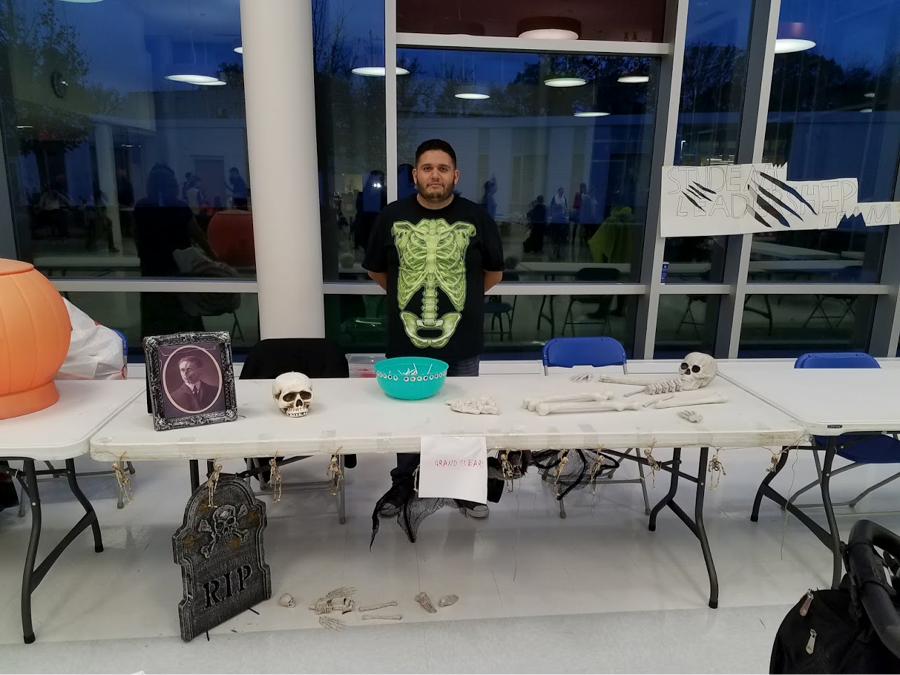 Disabled Puppy Rescued by Grand Subaru - Claire G
A.R.F. Animal Rescue Foundation, based in Wheaton, IL (www.arf-il.org) we were invited to have an Adoption event at their dealership. They hosted a party for us on Saturday October 21, 2017. We had a disabled puppy who had recent hip surgery in hopes to fix his injury. At this time, Senor Tickles is not using his back leg at all. There is hope that he will be able to use it once he has healed. The volunteers at A.R.F. were sure he would become an event mascot, figuring that he would be difficult to adopt. Boy, were we wrong! We like to be wrong on these counts!! A salesman at Grand Subaru met this little boy and immediately fell in love. He was able to complete an application, get it approved and he adopted the puppy that same day! He is planning on calling him Pickles to go with his 3 legged Peanut pup he has at home. Pickles will have a bother and a kindred spirit, as well as a wonderful Dad! Thank you Subaru!!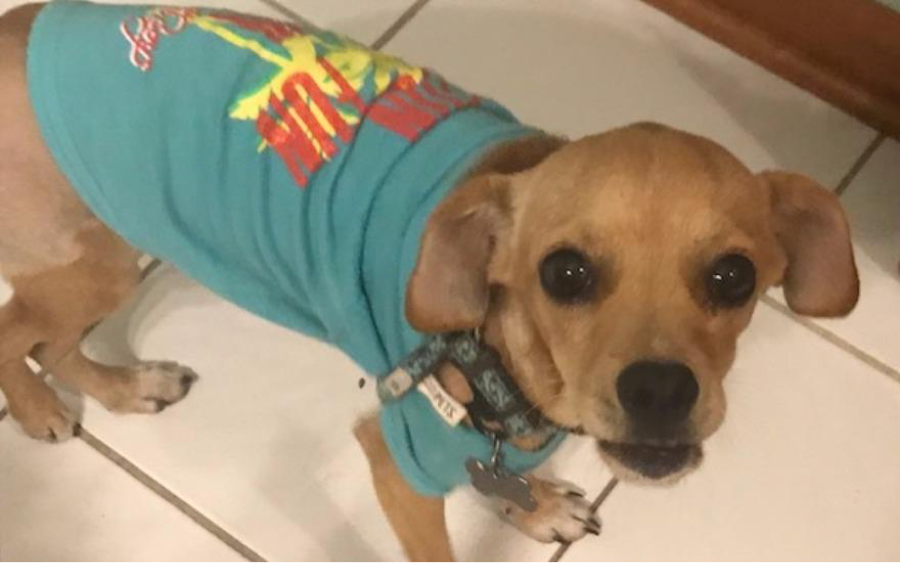 Conrad Fischer School Loves Grand Subaru - Jane B
On Monday, September 25th the team from Grand Subaru came to Conrad Fischer School with 150 brand new science books for the students. The books are all currently displayed in the Learning Resource Center for students to preview. Their eyes light up when the see the photographs and illustrations. These books will be an amazing addition to the school resources for science. Each book has the name of the customer who selected that book for Fischer, which helps make it a more personal donation for the children when they know someone selected a book for their school. Thank you so much to the Grand Subaru Team and their customers who helped make a difference for the students at Fischer.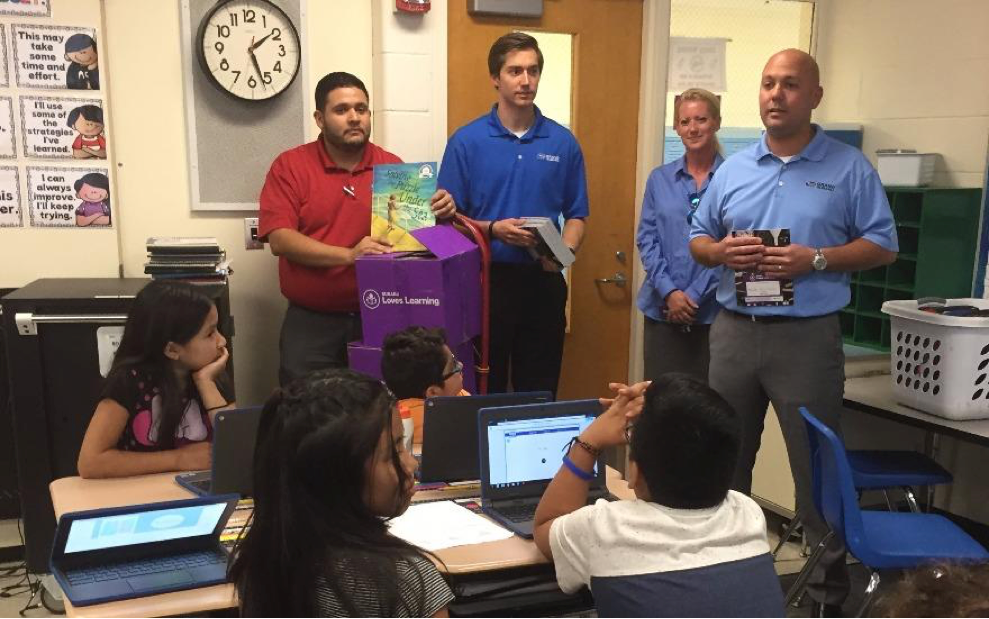 Grand Subaru Does Very Well at B Well Bensenville - Frank D
The presence of Grand Subaru at our B Well Bensenville Walkathon and Family Fest set a great example of their commitment to our residents. Their passion for getting involved was palpable when they first approached us to be a part of Village events, and their display at the event in 2017 set a high bar for future sponsors and benefactors. Grand Subaru came bearing gifts and prizes for visitors to their tent, along with donating mountain bikes and scooters for our residents. If that were not enough, they constructed a large sign-in sheet for residents, asking the question "Why B-Well?" and pledging a $5 dollar donation per signature. Ryan and Melissa led a motivated team, helping the event raise over $5,800 for the Bensenville Youth Coalition. Thank you Grand Subaru for your dedication to giving back to Bensenville residents. Your graciousness is an example that will be enjoyed by Bensenville Youth for many years to come. Frank DeSimone Bensenville Village President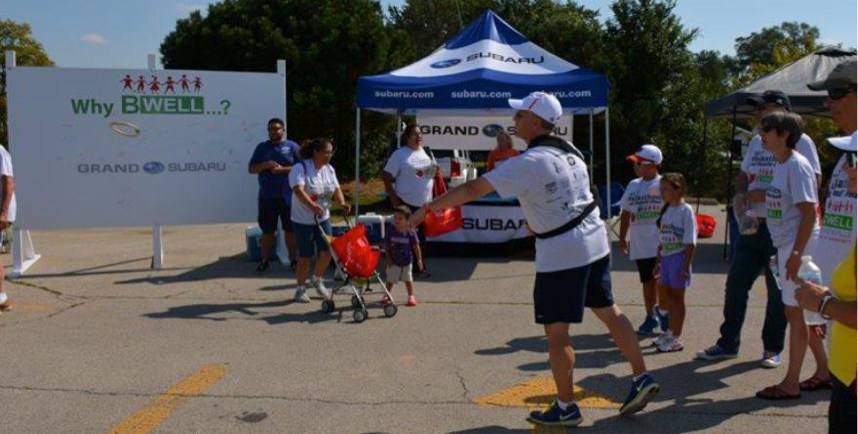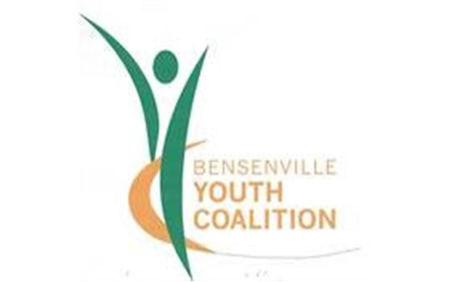 Operation Christmas: Grand Subaru Donates $4,000 in spirit of the holidays.
Dear Ryan,
We would like to thank you and the kind folks at Grand Subaru for the generous donation of $4000 to Operation Christmas!
With your donation, Operation Christmas was able to purchase gifts for 50 Bensenville children, whose names were provided to us through the United Community Concerns Association (UCCA). The gifts that were purchased included needed items such as coats, winter boots, hats, gloves, shoes, and warm clothing, as well as toys, crafts, and sports items.
We are honored by your choice to support our mission again this year. Your donation helped 50 children receive wrapped presents with their name on them - an endeavor that we feel is so important in helping these children feel worthy, not only of sharing in the spirit of the holidays but also worthy of the kindness of strangers during a time of need.
Thank you for partnering with us to help bring hope and inspiration to these local families. We at Operation Christmas would like to wish all of you at Grand Subaru all the best in 2017!
Sincerely, DeAnna M. Krejci - President
Jason K. Smith - Vice President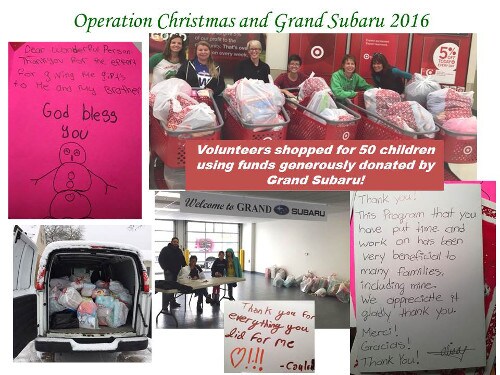 Grand Subaru and Jefferson Middle School Love the Earth! - May 2017
On May 26, 2017, as part of the Subaru Loves the Earth initiative, team members of Grand Subaru in Bensenville volunteered to partner with Jefferson Middle School in Villa Park to help fight the decline of wildlife in the local community. Together with Jefferson Middle School science teachers and students, the volunteers provided and planted a certified wildlife habitat near the school. The program is designed to engage students in the environment and to point out problems and solutions to our local ecosystem.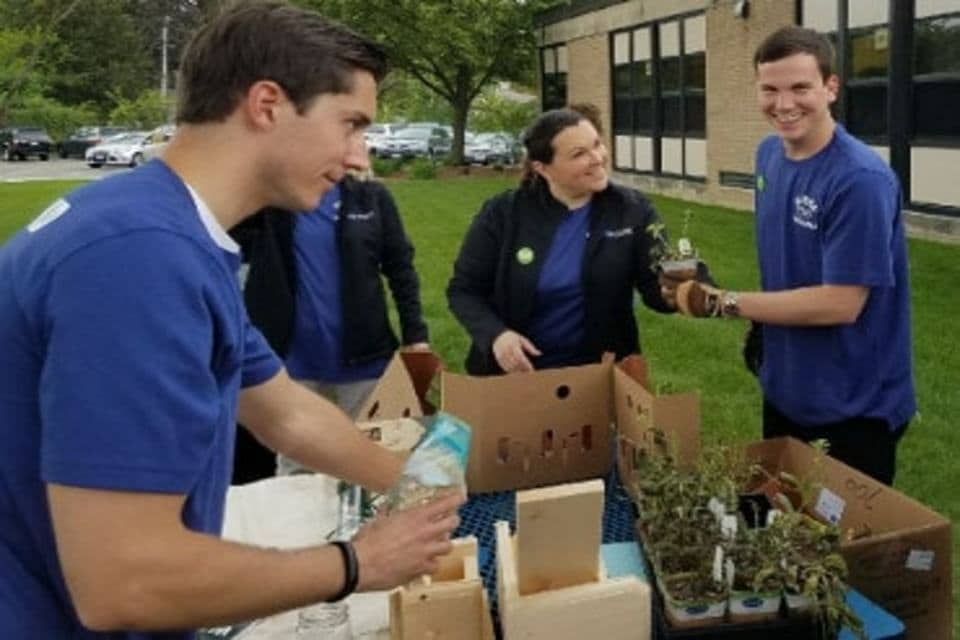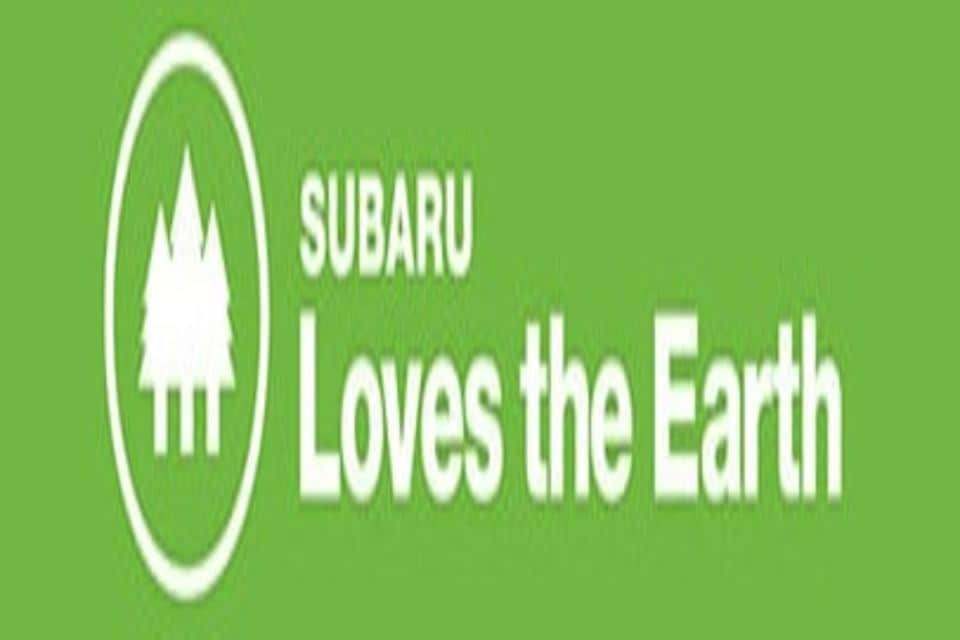 Make-A-Wish® Illinois extends a heartfelt thanks to Grand Subaru
"Three-year-old Lillian's favorite place in the world is the playground. She often has trouble walking on her own, but when she flies high on the swings, those challenges disappear.
At birth, Lillian was diagnosed with a life threatening respiratory condition. The sweet little girl has had some setbacks, but has not lost her joy or her love for the outdoors. She can often be found swinging and racing down the slide of a playground. So, when volunteer wish granters met with Lillian, it was clear that having her own backyard play-set would be the perfect wish!
The day that her play-set arrived, the happy little girl could not contain her excitement. She was all smiles at her wish celebration with her family and friends. As she spent the day playing with her siblings on her new play-set, Lillian's dreams came to life. Lillian's wish brought her hope, strength, and joy not only on that day, but over and over again in the lifetime of memories she will create on her backyard playground." --- Make-A-Wish® --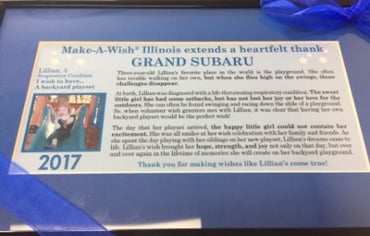 You Decide, We Provide Charity Contest Winner - Midwest Rescue of Illinois, Inc. April 2017
Grand Subaru is delighted to announce the winner of the "You Decide, We Provide" charity contest poll for the month of April, 2017. A well deserved congratulations goes to the Midwest Rescue of Illinois! Midwest Rescue of Illinois, Inc is a small group of caring individuals who are determined to make a positive impact in the lives of pit bulls. With a mission to facilitate the rescue and adoption of homeless dogs, and to place adoptable dogs into solid, stable homes, Midwest Rescue of Illinois, Inc is doing great things for the community and the team at Grand Subaru could not be more excited to give back to such a great cause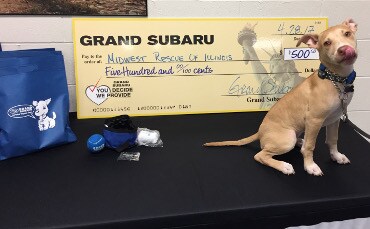 Grand Subaru Donates $100,000 and Delivery Van to Elmhurst Food Pantry
BENSENVILLE, IL - As Part of their commitment to the local community, Grand Subaru has agreed to donate $100,000 and a new delivery van to the Elmhurst-Yorkfield Food Pantry located at 1083 S. York Road in Elmhurst. The Elmhurst-Yorkfield Food Pantry is one of the largest all-volunteer food pantries in the area with over 100 people and no salaried employees. Serving over 800 families in Elmhurst and surrounding towns, the food pantry relies on charitable donations of food and money to help with its outreach. Started in 1983 out of a closet of the Yorkfield Presbyterian Church, EYFP, has grown through the hard work of volunteers like Katherine Watts, the managing director.
In DuPage County alone nearly 100,000 people are at risk of hunger and food insecurity. EYFP, provides a store setting in which people can pick up what they need.
"We're a little different than other food pantries, we let people choose what they want rather than providing them with a box of food," said Watts.
This year, EYFP moved into a brand new facility thanks to the generous donations of over 500 individuals and companies like Grand Subaru. On Wednesday, March 22nd, Grand Subaru of Bensenville will donate $100,000 and a new delivery van to the food pantry as part of the dealership's Love Promise to the community. The Love Promise is a corporate philosophy to make a positive impact on the community and making the community a better place to live for everyone.
Ryan Drouin , General Manager at Grand Subaru, sought out Elmhurst Yorkfield Food Pantry because of the positive work they do in the community.
"EYFP represents everything we as a business are looking to support, their unselfish volunteerism has created such a huge impact in the community for people struggling to make ends meet," said Drouin.
In addition, to the $100,000 donation, Grand Subaru is also donating a delivery van, which according to Watts couldn't have come at a better time.
"Our delivery van was truly on it's last leg, you could hear it coming a mile away and because it serves such a necessary purpose for us, we had to keep it going. When Ryan told us of his commitment, it was a real miracle, because we did not have the funds available to get a new van," said Watts.
The donation will be given as part of an event on Wednesday March 22nd at 6pm at Grand Subaru 125 W. Grand Avenue in Bensenville. In addition to members of Grand Subaru and volunteers from EYFP, members of the Elmhurst Chamber of Commerce, regional management from Subaru of America, and representatives from Northern Illinois Food Bank will also be present.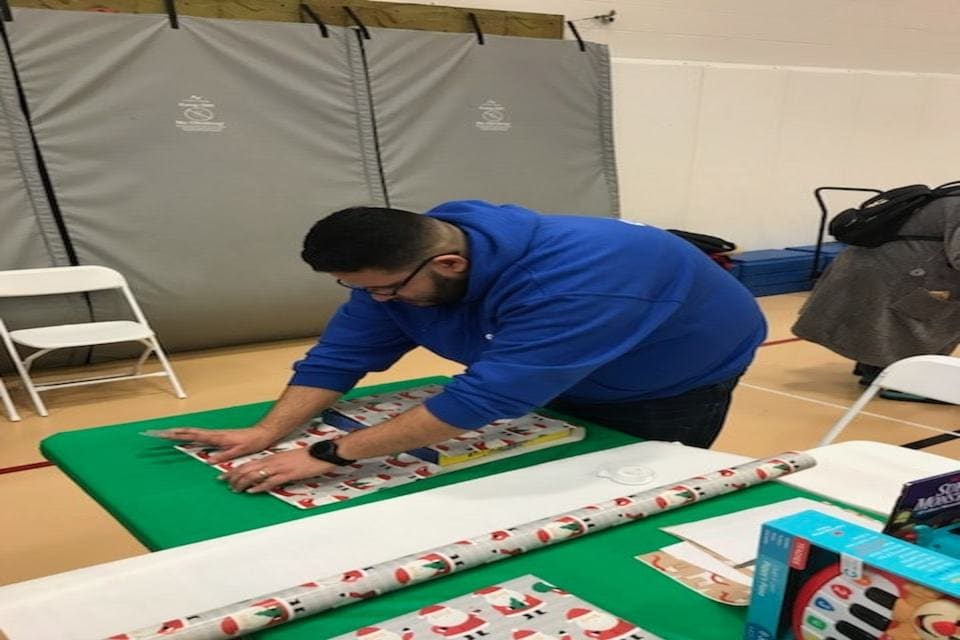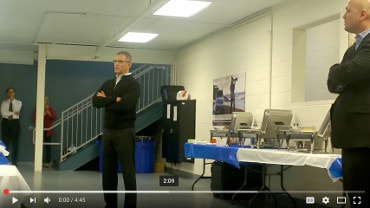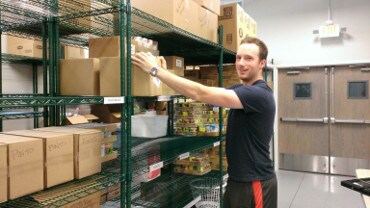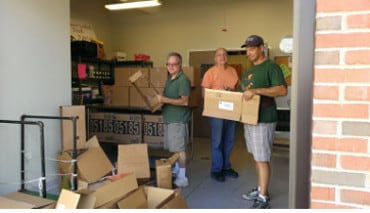 Autism Speaks Love Grand Subaru! - Winter 2015
The folks over at Grand Subaru in Bensenville have been tremendous partners for our Chicagoland Chapter. During the winter of 2015, they partnered with us to raise $50,000 for our chapter! It truly was a testament to their hard work and to their clientele. 1 in 68 children are affected by autism. The mission of Autism Speaks is to change the lives of all those affected by autism and we do so in four ways: Science, Advocacy, Awareness, and Family Services. The great people at Grand Subaru are furthering the mission of Autism Speaks and we couldn't thank them enough! We are so excited to have them as Corporate Visionary Sponsors for the 2015 Walk Now for Autism Speaks- Chicago event on May 16th! Sign up to see them there, today! www.walknowforautismspeaks.org/chicago