The 2021 Subaru Love Promise Customer and Community Commitment Award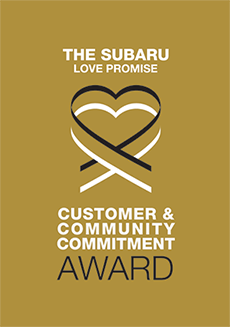 We've been nationally recognized for our dedication to our customers, our community, and the Subaru Love Promise.
We're honored to receive the 2021 Subaru Love Promise Customer and Community Commitment Award. This award nationally recognizes elite Subaru retailers who provide an exceptional customer experience at every interaction with Subaru. These retailers have also demonstrated an outstanding commitment to supporting passions and causes in their local communities in important areas such as the environment, community, health, education, and pets.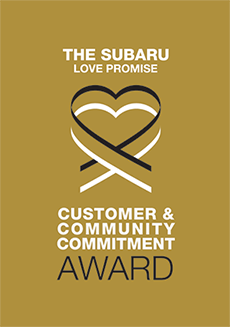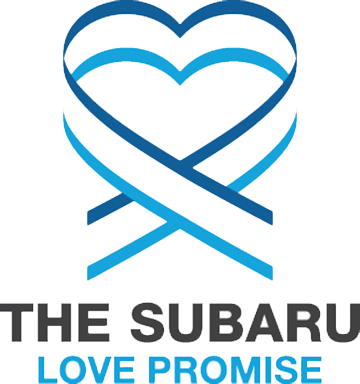 What is the Subaru Love Promise?
Subaru and our retailers believe in making the world a better place and the Subaru Love Promise is our vision of respecting all people. This is our commitment to show love and respect to our customers and to work to make a positive impact in the world.
How is Grand Subaru dedicated locally to the Love Promise?
Our Love Promise can be seen in various partnerships with local charities and non-profits. We're grateful for the opportunity, not only to be a part of our community, but to serve it as well.
Animal Rescue Foundation of Illinois
Conrad Fischer Elementary School
Love Promise Stories from Grand Subaru
Subaru and Grand Subaru believe in making a positive impact on the communities in which we live and work. We uphold that belief through our Love Promise Community Commitment. Every month, we select inspiring stories from customers and partners from around our area who strive to support our collective commitment and feature them here
Pinot - Getting Better with Age - Susan V
This is a story about how A.R.F.-Animal Rescue Foundation was able to help a senior cat find a forever home with the help and support from Grand Subaru. Pinot was surrendered to Chicago Animal Care and Control (CACC) on August 10, 2020 when her owner was hospitalized and would not be able to come home and care for her. She languished in a small kennel for a month, scared and alone with strange smells, getting more and more depressed every day. When Rachel saw Pinot's picture on CACC's Facebook page, she saw the potential in her furry face and knew she had to help. Even though Rachel wasn't an A.R.F. volunteer, she was so moved by Pinot's story that she had to get involved - she emailed and immediately became a volunteer so that she could foster Pinot. Once Pinot was pulled from the stressful environment of the city shelter, her true personality started to emerge. She is the epitome of a lap cat, wanting to spend all the time she can snuggling with her foster and getting pets and belly rubs. Rachel gave her a quiet, stress-free home to let her decompress from all of the changes she'd been through, which gave her the chance to let her personality shine. Pinot was adopted by a lovely first-time cat owner couple who wanted a mature cat to enjoy their quiet life with. They are looking forward to a life of her lounging in the sun, enjoying head scratches and watching the birds outside the window. We thank Grand Subaru for helping make Pinot's happy tail possible!
---
One Good Deed Deserves Another - Kathie W
Our association with Ryan Drouin and his entire Grand Subaru team has totally transformed our mission to help families and individuals struggling to make ends meet. Elmhurst-Yorkfield Food Pantry is honored to be the recipient of Grand Subaru's 2018 Share the Love campaign. Those resources were put to immediate use allowing EYFP to purchase a new utility van in early 2019. The added cargo space helps us pick up more healthy foods and personal care products, which in turn, lets us offer even more access to the pantry for our clients. We are truly able to make a difference in the lives of those we serve because of Grand Subaru. Their support allows us to support others. From one of our moms: "EYFP is a blessing because the food assistance helps make ends meet. My family would not have healthy food to eat without this pantry. My kids don't have to go to bed hungry." Grand Subaru's good deed lets us pay it forward.
---
A Gift That Will Keep on Giving - Lara S
Grand Subaru of Bensenville reached out to Bensenville School District 2 with an idea of doing a clothes drive for our families in need. We were so appreciative of being considered for this act of kindness that Subaru is so well-known for. However, on the day of delivery of the items that were collected "being appreciative" moved quickly into "overwhelmed with unbelievable emotion" not only by our superintendent but by our administrative office staff. Everyone could not believe how the bags of clothes, jackets, shoes, blankets, and sheets just kept coming in and piling up-all 997 pounds. Everyone broke out into a spontaneous applause! The great outcome is that anything that can't be used at our schools will be donated to our Bensenville Rotary Club for future distribution within the Bensenville and neighboring communities. We look forward to working with Grand Subaru as valued Community Partners now and in the future.
---
Grand Subaru makes a "Grand" Gesture - Donna D
On Wednesday, November 20, Mr. Jose Carrera, Brand Manager and Mr. John Francel, Service Manager from Grand Subaru, came to Conrad Fischer school bringing over 150 books for our students. The students were very excited to see the new books! We had a small reception in the library with second and fourth grade classes attending. After presenting the boxes of books to the students, Mr. Carrera and Mr. Francel patiently answered all the questions posed by the students including, "How much does the most expensive car at your dealer cost?" The books are already in classrooms and in the library where they are being read and enjoyed. Thank you so much, Grand Subaru! We hope to see you again.
---
Grand Subaru Cares about Rescue Pets - Gloria W
Grand Subaru has hosted a "Subaru Loves Pets" event for A.R.F. Animal Rescue Foundation (arf-il.org) for the last three years. Jose Carrera and the entire Grand Subaru team truly care about creating and promoting an amazing event that brings more awareness to our mission to find homes for the pets in our foster-based rescue. They arranged for (and paid for) a food truck to feed our volunteers and all of the visitors, invited a mobile pet groomer, got the word out to a local State Farm agent who donated a huge amount of food, and provided a huge area in their dealership for us to set up all of our merchandise. As a rescue that is solely dependent on raising our own funds and educating the public about adoption, spay/neuter, and other pet-related issues, we are eternally grateful to Grand Subaru for helping us. Thank you, Grand Subaru! - A.R.F. Animal Rescue Foundation arf-il.org Facebook: @A.R.F.Illinois Instagram: arf_animal_rescue_il Twitter: @ARF_Rescue_IL
---
Grand Subaru + Elmhurst Hospital 06-27-19 - Michelle M
On June 27th, 2019, the LLS Illinois Chapter and Grand Subaru had the pleasure of delivering 80 blankets and 10 arts & craft kits to Elmhurst Memorial Hospital as part of the Subaru Loves to Care program. These comforting gifts were accompanied by personalized messages of hope written by the Grand Subaru customers, staff, and families. This incredible act of generosity was warmly received by the Elmhurst Memorial staff, who were thrilled to distribute these comforting gifts to their patients. The arts & crafts kits were especially welcome as a distraction for energetic children! LLS is proud to partner with Subaru to spread hope, love, and warmth to those fighting cancer, across the country and right here in the Chicagoland community.
---
Hope is in the Air - Sue W
We're so grateful for Grand Subaru! Through its "Subaru Loves to Care" initiative, Grand Subaru in Bensenville recently donated blankets, craft kits and numerous care cards to the Nancy W. Knowles Cancer Center. This is the third year of the program, in which Subaru is partnered with The Leukemia & Lymphoma Society to donate blankets and messages of hope from Subaru customers to patients, along with arts and crafts kits for children undergoing cancer treatment. Subaru Loves to Care!
---
Disabled Puppy Rescued by Grand Subaru - Claire G
A.R.F. Animal Rescue Foundation, based in Wheaton, IL (www.arf-il.org) were invited to have an Adoption event at their dealership. They hosted a party for us on Saturday October 21, 2017. We had a disabled puppy who had recent hip surgery to hopefully fix his injury. At this time Senor Tickles is not using his back leg at all. There is hope that he will be able to use it once he is healed. The volunteers at A.R.F. were pretty sure he would become an event mascot, figuring that he would be difficult to adopt. Boy, were we wrong! We like to be wrong on these counts!! A salesman at Grand Subaru met this little boy and immediately fell in love. He was able to complete an application, get it approved and he adopted the puppy that same day! He is planning on calling him Pickles to go with his 3 legged Peanut pup he has at home. Pickles will have a bother and a kindred spirit, as well as a wonderful Dad! Thank you Subaru!!
---
Conrad Fischer School Loves Grand Subaru - Jane B
On Monday, September 25th the team from Grand Subaru came to Conrad Fischer School with 150 brand new science books for the students. The books are all currently displayed in the Learning Resource Center for students to preview. Their eyes light up when the see the photographs and illustrations. These books will be an amazing addition to the school resources for science. Each book has the name of the customer who selected that book for Fischer which helps make it a more personal donation for the children when they know someone selected a book for their school. Thank you so much to the Grand Subaru Team and their customers who helped make a difference for the students at Fischer.
---
Grand Subaru Does Very Well at B Well Bensenville - Frank D
The presence of Grand Subaru at our B Well Bensenville Walkathon and Family Fest set a great example of their commitment to our residents. Their passion for getting involved was palpable when they first approached us to be a part of Village events, and their display at the event in 2017 set a high bar for future sponsors and benefactors. Grand Subaru came bearing gifts and prizes for visitors to their tent, along with donating mountain bikes and scooters for our residents. If that were not enough, they constructed a large sign-in sheet for residents, asking the question "Why B-Well?" and pledging a $5 dollar donation per signature. Ryan and Melissa led a motivated team, helping the event raise over $5,800 for the Bensenville Youth Coalition. Thank you Grand Subaru for your dedication to giving back to Bensenville residents. Your graciousness is an example that will be enjoyed by Bensenville Youth for many years to come. Frank DeSimone Bensenville Village President
---
Operation Christmas - DeAnna K
We would like to thank you and the kind folks at Grand Subaru for the generous donation of $4000 to Operation Christmas! With your donation, Operation Christmas was able to purchase gifts for 50 Bensenville children, whose names were provided to us through the United Community Concerns Association (UCCA). The gifts that were purchased included needed items such as coats, winter boots, hats, gloves, shoes, and warm clothing, as well as toys, crafts, and sports items. We are honored by your choice to support our mission again this year. Your donation helped 50 children receive wrapped presents with their name on them – an endeavor that we feel is so important in helping these children feel worthy, not only of sharing in the spirit of the holidays but also worthy of the kindness of strangers during a time of need. Thank you for partnering with us to help bring hope and inspiration to these local families. We at Operation Christmas would like to wish all of you at Grand Subaru all the best in 2017! Sincerely, DeAnna M. Krejci President Jason K. Smith Vice President
---
A True Partnership - Grand Subaru & EYFP - Katherine W
When the Elmhurst Yorkfield Food Pantry (EYFP) was chosen by Grand Subaru as their hometown charity for the 2016 Share the Love campaign, we were hoping to just buy a "newer" used van and maybe a little left over for running the pantry. The journey that followed far exceeded our wildest dreams! Right from the start, Ryan and his amazing team at Grand Subaru embraced EYFP and our mission to help our neighbors who struggle with food insecurity on a daily basis. They volunteered their time to help us unload trucks, stock shelves and even work with our clients - all before the campaign ever started. Grand Subaru continued the journey and graciously hosted a dinner event which included about 100 of our loyal volunteers. That was truly the night they changed our mission and the lives of so many that we serve. To our astonishment, Grand Subaru presented us with a check for $100,000, a van full of food, and the keys to a new van to insure we would have a more reliable vehicle. All of us at EYFP cannot even begin to thank Bill, Ryan, and the entire Grand Subaru team enough for their love and support. EYFP has seen a 30% increase in the number of families we serve each month since just last year. Not only are we able to continue to offer a wide variety of non-perishable foods, we can now offer fresh items like milk and eggs. The Grand Subaru team says "The reward comes from the journey." EYFP is truly humbled to have been on this journey with Grand Subaru.
---
Subaru Loves To Care - Elmhurst Hospital Delivery - Annie H
Subaru of America and The Leukemia & Lymphoma Society have teamed up for the Subaru Loves to Care initiative, to help provide care and support to patients and their families while battling cancer. On Wednesday, July 12 Subaru and LLS made a delivery to local Elmhurst Memorial Hospital to drop off blankets and craft kids for patients. The hospital plans to share the love with both cancer patients in their infusion center as well as inpatient.
---
My 2017 Forester XT at Grand Subaru - Sondra M
I want to share my experience at Grand Subaru when I purchased my first new car. It was so enjoyable and everything went so smoothly it is an experience I will never forget. Nealy Anderson from Grand made my experience buying my 2017 Forester XT fantastic! I was nervous at first with it being my first new car, but she totally took away my nervousness. She did an awesome job at showing me everything on the Forester, and made it fun too! The XT is very different from my 2005 STi and we joked that I would need some time getting used to driving an automatic car! Grand Subaru in Bensenville IL is a wonderful retailer! My dad who was with me when I purchased the Forester said he wish he knew of Grand Subaru earlier because he bought his Subaru there and my moms too! He said his next vehicle will be purchased at Grand! And when my time comes for a new car again I will be back at Grand to purchase another Subaru! After a short time after the purchase of my XT, Nealy checked in with me to make sure everything was going good! Nealy went above and beyond with making my experience awesome there! I have taken Forester there for detail work and I will always bring it there for service and maintenance! 5 stars for Nearly and Grand Subaru! Thank you!
---
Autism Speaks Love Grand Subaru! - Katrina M
The folks over at Grand Subaru in Bensenville have been tremendous partners for our Chicagoland Chapter. During the winter of 2015, they partnered with us to raise $50,000 for our chapter! It truly was a testament to their hard work and to their clientele. 1 in 68 children are affected by autism. The mission of Autism Speaks is to change the lives of all those affected by autism and we do so in four ways: Science, Advocacy, Awareness, and Family Services. The great people at Grand Subaru are furthering the mission of Autism Speaks and we couldn't thank them enough! We are so excited to have them as Corporate Visionary Sponsors for the 2015 Walk Now for Autism Speaks- Chicago event on May 16th! Sign up to see them there, today! www.walknowforautismspeaks.org/chicago
---