Subaru Tires for Sale Near Bensenville, IL
If you need new tires, the service center at Grand Subaru in Bensenville, IL, has you covered. Our factory-trained technicians will provide you with the correct tires, installed properly, at a great price. We offer a wide range of Subaru tires for sale as well as tires for other makes and models. Need a leak or punctured tread repaired? We do that too!
If you don't need new tires, we can still help ensure the safety and longevity of your current tires with regular inspection and tire rotation. Getting your tires rotated every 5,000-10,000 miles is a recommended way to extend the life of your tires. You can schedule service online to have your tires rotated and inspected at Grand Subaru. And if you have any questions, just call our friendly service center staff at (866) 455-7549 or contact us online.
Order Genuine OEM Subaru Tires
It's important, for both performance and safety, to put the correct tires on your car. And with genuine OEM-approved tires from the tire center at Grand Subaru, you're guaranteed to get good-quality tires for your vehicle. We stock all major brands of tires, and our expert technicians will make sure your car is back on the road with its new shoes as quickly as possible.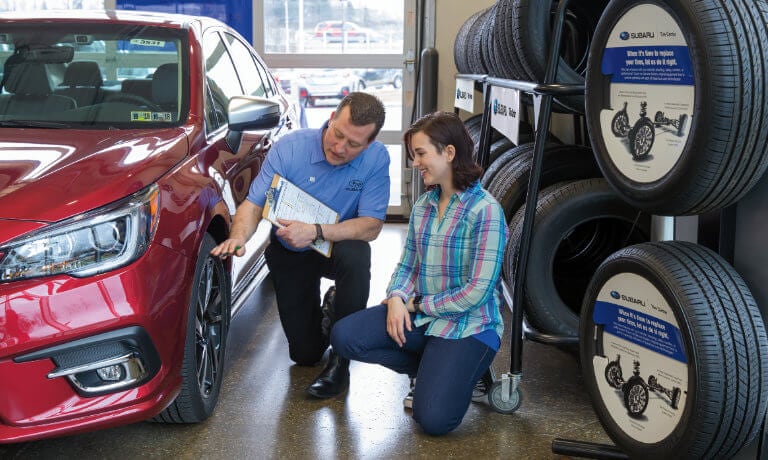 Subaru Tire Offers & Specials
If you need new tires, make sure you check out our parts specials to see whether there's an offer that matches with your vehicle. We rotate our available special offers regularly, so check back often for opportunities to save.
Subaru Forester Tires
When you need to order Subaru Forester tires, check with Grand Subaru. We stock Forester tires by Bridgestone®, Falken, and other manufacturers that will get you rolling again quickly. For more information on the popular Forester, check out our Subaru Forester review.
Subaru Outback Tires
The Subaru Outback is one of our most popular models. When your Outback needs tires, order Subaru Outback tires with Grand Subaru for guaranteed quality and expert installation. You can also find out all about the Outback by reading our Subaru Outback review.
Subaru Crosstrek Tires
Our service center will work with you when it comes time to order Subaru Crosstrek tires for your Crosstrek. Whether you're looking for tires from Yokohama®, Falken, or another maker, Grand Subaru can help. Find out more about the popular Crosstrek SUV with our Subaru Crosstrek review.
Schedule Your Subaru Tire Replacement Service Today
It's important to keep your tires in good condition, so if you need new tires or you aren't sure about how worn your tires are, bring your vehicle into Grand Subaru for an inspection. You can schedule service quickly and easily on our website, or call us at (866) 455-7549.